Main Menu
Background
According to Ethnologue.com "the number of individual languages listed for Malaysia is 134. Of these, 133 are living and 1 is extinct. Of the living languages, 112 are indigenous and 21 are non-indigenous. Furthermore, 11 are institutional, 5 are developing, 9 are vigorous, 95 are in trouble, and 13 are dying." From the figures, over 80% of languages are in danger that require prompt attention of the society to safeguard and preserve the ethnic and cultural heritage.
"If you don't understand, how can you learn?" and children learn better in their mother tongue first, the effectiveness of mother tongue education has already been proven in numerous empirical studies and recognized in the international community. Nevertheless, the questions of national identity and social unity still remain challenges in post-colonised countries, including Malaysia.
Due to the abovementioned questions, as to create a platform of discussion, we will be organising the International Conference on Mother Tongue Based Multilingual Education (MTB-MLE) in November 2021, which will address the important issues of language, mother tongue and multilingual education and social cohesion etc.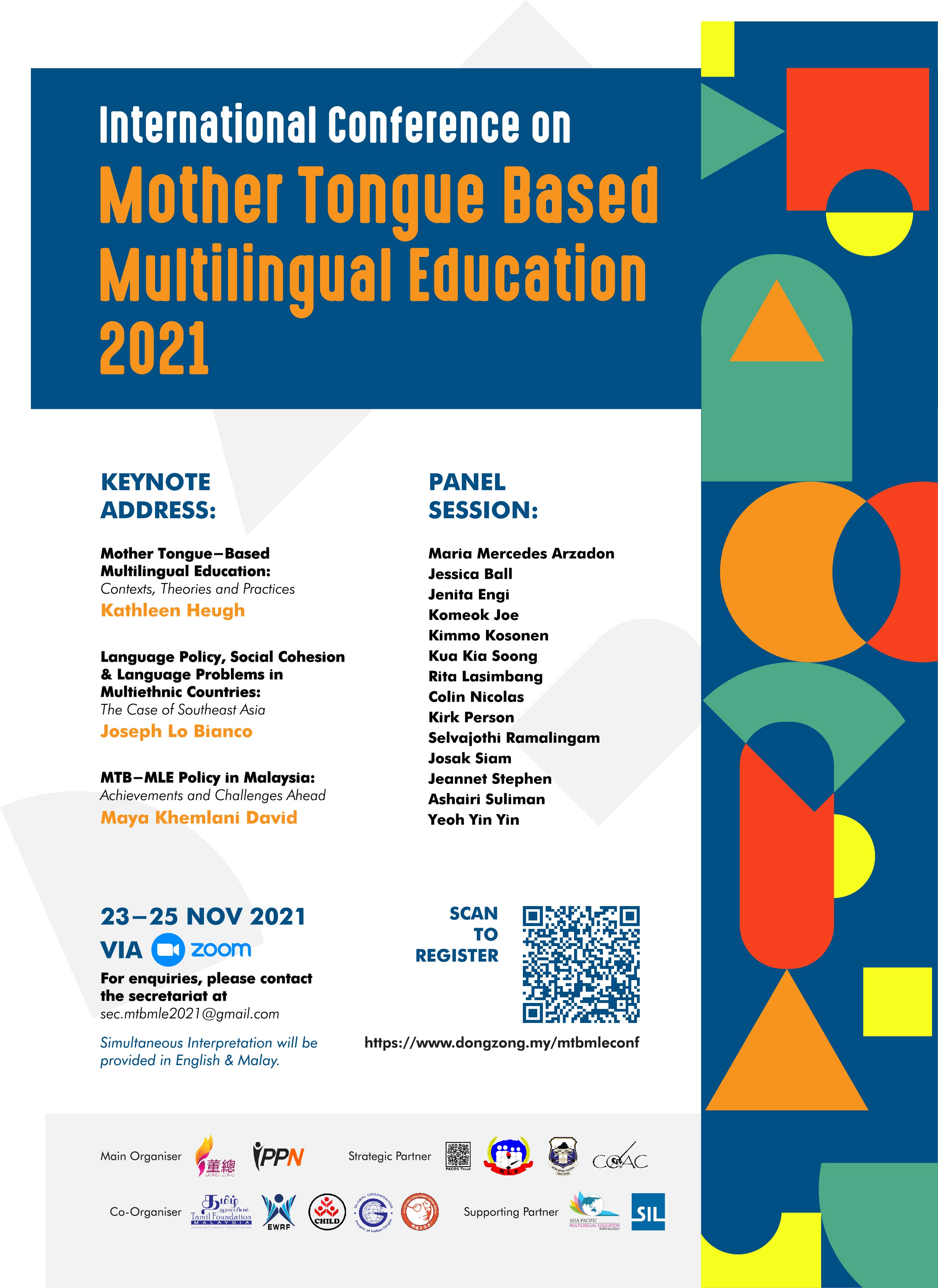 Objective
a. To promote the awareness of Mother Tongue Based Multilingual Education (MTB-MLE) in Malaysia.
b. To enhance understanding the development of MTB-MLE in Southeast Asia and sharing the experience on the national, regional or international level.
c. To generate discussion between policy, practice and research in MTB-MLE development.
d. To enhance understanding of the linkages among language, social cohesion, and the Sustainable Development Goals (SDG).
e. To discover the possibility in building the regional and national MTB-MLE coalition.
Themes
The conference will be organized around three key themes:
1. MTB-MLE Experiences in SEA Countries.
2. Past and Emerging Language in Education Issues Related to MLE in Malaysia.
3. Initiatives and Challenges of MTB-MLE among Indigenous Peoples in Malaysia.
Organiser and Support organisations
---
| | |
| --- | --- |
| | Inisiatif Penislahan Pendidikan Nasional (IPPN) or National Education Reform Initiative is a group of 15 educational non-governmental organizations from various backgrounds has committed to work together on an initiative to reform Malaysia education system. IPPN vast experience in running many educational institutions (private) and expertise from member organisations will be applied to come up with a Malaysian approach to education. |
---
Co-organiser
| | |
| --- | --- |
| | Tamil Foundation is an independent, non-partisan, non-profit organization committed to helping communities through research, development and publication focused on Tamil education. Their mission is to empower the stakeholders of Tamil education so as to promote the cause of Tamil education in Malaysia by uniting the Tamil school committees and promoting and solidifying the relationship among the Tamil schools in Malaysia. |
---
| | |
| --- | --- |
| | Educational, Welfare and Research Foundation (EWRF) was founded in 1978 as a non-profit & non-governmental organisation. EWRF is dedicated towards serving the marginalised, vulnerable and impoverished communities in Malaysia by empowering underperforming and socially challenged students. This is done through programmes focused on character transformation, academic, vocational & technical training and psycho-social counselling. |
---
| | |
| --- | --- |
| | Child Information Learning Development Centre (CHILD) is a voluntary social movement that attempts to optimize opportunities for the less fortunate and disadvantaged children. The basic philosophy of CHILD stems from its conviction that if a child born into an underprivileged home is to grow into any adult with self-confidence and self-esteem, imbued with universal values and impregnated with the skills and desire to contribute to the growth and development of society, of which he is an integral part, he must be nurtured during the critical period of his life, between the ages of 5 to 15 years. |
---
| | |
| --- | --- |
| | Global Organization for People of Indian Origin (GOPIO) is a non-sectarian global organization for the 30 million PIO's spread around the world in about 100 countries. Through cooperation and communication, GOPIO engages in the PIO's well being. GOPIO Malaysia is one of the promoters and founding members of GOPIO International. GOPIO Malaysia is the local Country Chapter of GOPIO International. GOPIO Malaysia engages Academic Forums, International Conventions, Local and International Business Delegations, Entrepreneurs Recognition Award and facilitates PIO Scholarships. |
---
| | |
| --- | --- |
| | LLG Cultural Development Centre Berhad (LLG) was formed in 1985 to commemorate the most respected Chinese educationist in Malaysia, Mr. Lim Lian Geok. LLG aims to promote the spirit of Mr. Lim Lian Geok, which is, bravely struggle and sacrifice for cultural rights particularly equitable position of mother tongue education and to uphold the principles of democracy, human rights and respect for individualities and ethnic diversities. |
---
Strategic Partner
| | |
| --- | --- |
| | PACOS Trust is a community-based organization (CBO) dedicated towards supporting indigenous communities in Sabah. PACOS sees itself as an organization that strives to empower indigenous communities through systematic building and strengthening of community organizations, which can act collectively on its own. The organization also sees the need to support networking among organizations struggling to assert right over community resources and revitalizing indigenous systems. |
---
| | |
| --- | --- |
| | The Kadazandusun Language Foundation (KLF) is a non-profit-making research institute which began operating in January 1996 and seeks to continue the effort to preserve, promote and develop the use o the mother tongue in the Kadazandusun community. |
---
| | |
| --- | --- |
| | Dayak Bidayuh National Association (DBNA) was registered on 22 September 1955 as the Bidayuh National Association under the then Societies Ordinance 1947. Thus was born a new consciousness and awakening in the Bidayuh hinterland of their own identity, heritage and existence as a community. |
---
| | |
| --- | --- |
| | Center for Orang Asli Concerns (COAC) was established in 1989 to advance the cause of the Orang Asli -- whether via the greater dissemination of Orang Asli news and views, assisting in court cases involving Orang Asli rights, or in developing arguments for lobbying and advocacy work. |
---
Supporting Partner
| | |
| --- | --- |
| | Asia Pacific Multilingual Education Working Group (MLE WG) was established formally in 2009, is a coalition of INGOs, universities, and bilateral and UN agencies involved in implementing Mother Tongue-Based Multilingual Education (MTB MLE) programmes for disadvantaged communities in countries throughout the Asia-Pacific Region. The MLE WG focuses on the enhance coordination of technical and substantive support for multilingual education initiatives and evidence-based policy advocacy throughout the region. UNESCO Asia and Pacific Regional Bureau for Education (UNESCO Bangkok) and United Nations Children's Fund Regional Office for East Asia and the Pacific (UNICEF-EAPRO) lead the MLE WG as co-chairs in the Asia-Pacific region; UNESCO Bangkok serves as the MLE WG Secretariat. |
---
| | |
| --- | --- |
| | SIL International is a faith-based non-profit organization committed to serving language communities worldwide as they build capacity for sustainable language development. As of 2020, SIL are involved in approximately 1,350 active language projects in 104 countries. These projects impact more than 1.1 billion people within 1,600 local communities. SIL's work brings together more than 4,300 staff from 89 countries who work alongside thousands more local partners and community volunteers worldwide. Our services are available without regard to religious belief, political ideology, gender, race or ethnic background. |
---
Associate Professor

Applied Linguistics, UniSA Education Futures, Centre for Research in Educational and Social Inclusion, University of South Australia
Biography

Dr Kathleen Heugh is a socio-applied linguist who specialises in language policy and planning, bilingual and multilingual education, and English Medium Instruction (EMI). She teaches sociolinguistics and co-ordinates UniSA's English Additional Language major, in which she has embedded contemporary translanguaging pedagogy and research. Kathleen works with several large transnational organisations (including various agencies of the UN, the EU and the African Union; transnational bodies such as the British Council, and international policy think tanks) located in Africa; Central, South and East Asia; Europe; and North America. Currently she focuses on policy and its implementation in bilingual and multilingual education for displaced, migrant and refugee students within mainstream systems.
She has specialist expertise in system-wide and multi-country evaluation studies on languages and literacy in education in sub-Saharan Africa for international governments and development agencies (including UNESCO and UNDP). She was a Ministerial advisor on language policy for the Constitution of the Republic of South Africa (1996) and was subsequently appointed to two statutory bodies established through the Constitution. As a founding member of the Pan South African Language Board, Kathleen initiated and led the first Sociolinguistic Survey of South Africa (2000). She also led the design, development and administration of the first system-wide multilingual assessment of students in the world (2006). Her theoretical and field research in multilingual education in more than 30 countries informs UNESCO and UNICEF language education policy recommendations for countries in Africa and the Asia-Pacific, and for minority communities worldwide for the UN Human Rights Council. She focuses on the relationship between the languages of learning and school retention, particularly for marginalised, migrant and displaced communities; and also on the relationship between faith and literacies in education in urban, rural and remote settings. She is one of a few linguists with extensive fieldwork experience in several conflict and post-conflict settings of sub-Saharan Africa, particularly in fragile border regions between countries.
She holds several honorary positions, including with the University of the Western Cape and the Human Sciences Research Council in South Africa, and the National Multilingual Education Resource Centre, Jawaharlal Nehru University, Delhi. She has been a distinguished Visiting Professor at Rhodes University in 2015 and the University of South Africa in 2018; Visiting Professor at the Universities of Ghent and Geneva in 2019; and Visiting Scholar at the University of Jawaharlal Nehru University in 2012 and 2014, and the Universities of Antwerp and Louvain in Belguim between 1997-2001. With Christopher Stroud (Western Cape and Stockholm) and Piet van Avermaet (Ghent), she is the Bloomsbury Series Editor of Multilingualisms and Diversities in Education. Together with Christopher Stroud, she is the co-founder of the Southern Multilingualisms and Diversities Consortium which has contributed to opening a new area of theoretical debate and research in sociolinguistics. She also serves on the editorial boards of ten international journals and book series, has over 120 peer reviewed publications and has authored 20 reports for government, international and transnational agencies.
She has designed and taught at Masters' Degree and Post-graduate Diploma levels in language policy and planning, and bilingual and multilingual education at the Universities of Cape Town and Antwerp. She received a BA (Hons) from Rhodes University; MPhil (Language Education, cum laude) University of Cape Town; and PhD (Bilingualism) Stockholm University. She is particularly interested in supervising PhD students interested in decolonial and southern linguistics and how scholarship in multilingualism and knowledge systems of post-colonial societies are needed for transforming education systems and academia in times of global anxiety, human displacement and turmoil caused by socio-political upheaval and natural disaster.
Professor Emeritus

Language and Literacy Education, Melbourne Graduate School of Education, University of Melbourne
Biography
Dr Joseph Lo Bianco, is Professor Emeritus of Language and Literacy Education in the Melbourne Graduate School of Education, at the University of Melbourne, and a past president of the Australian Academy of the Humanities.
He specialises in language policy studies, bilingualism and intercultural education and research and action on peace and conflict in multi-ethnic settings. He was author of the 1987 National Policy on Languages, widely recognised as the first multilingual policy in an English speaking society. He has been an invited consultant on solving language problems in education and in wider society in 25 countries since 1990 and led major language education writing teams and research for major international organisations in Europe and Asia. From 2012 he directed a multi-country project on language policy and social cohesion in conflict affected settings in SE Asia for UNICEF and conducted large scale policy workshops for high level policy officials across Asia, under the auspices of UNESCO.
His work combines academic analysis of language policies, practical advising on language policy design and implementation to various authorities and direct engagement in bottom-up language planning. In his work in Southeast and South Asia on language grievances and language problems in the context of interethnic conflict he has devised and implemented over 50 facilitated dialogues as a methodology for building consensus on tackling language problems. He has an extensive list of publications with a strong recent focus on social cohesion, peace and conflict mitigation in multi-ethnic settings.
Dr Maya Khemlani David

Honorary Professor, Asia - Europe Institute, University of Malaya
Biography
Dr Maya Khemlani David is a former member of the Faculty of Languages and Linguistics, University of Malaya She served as the Head of the Section Co-Curricular, University of Malaya (SKET) from 2006 to 20013 and has been and is a consultant and adviser to several institutions of higher education in Malaysia, Pakistan and UK. Maya David is an Honorary fellow of Foundation of Endangered Languages (FEL), Chartered Institute of Linguists (UK) and Linguapax winner 2007 for her work on language maintenance and shift.
Her intellectual interests centre on Discourse Analysis, Critical Discourse Analysis, Legal Discourse and Language and Human Rights. She is the author of 28 books and her publications include works in the fields of Sociolinguistics and Sociocultural issues. Publishers of her books include Peter Lang, University of Amsterdam Press, University of Malaya Press, University Putra Press, University Pendidikan Sultan Idris, Strategic Institute of Research and Development Malaysia, The Association of Southeast Asian Nations (Asean), University Publication Centre (UPENA), and Federal Publications Sdn. Bhd.
She is the author of 185 journal articles and book chapters and is on the editorial boards of many journals including International Journal of Social Sciences, The European Journal of Applied Linguistics and TEFL, International Journal of Cross-Cultural Studies, International Journal of Research Studies in Language Learning, and the Philippine Journal of Linguistics. Her publications have been cited over 413 times (Research Gate). She is currently engaged in several research projects including a study on identity and ethnicity of a minority diaspora community and Politeness as manifest in the questioning discourse of western and Asian academics.
Panelists
Dr Kimmo Kosonen, Specialist of Payap University, Chiang Mai, Thailand
Dr Maria Mercedes Arzadon, Assistant Professor, College of Education, University of the Philippines-Diliman
Dr Kirk Person, Director, External Affairs, SIL International
Dr Jessica Ball, Professor, University of Victoria, Canada
Dr Selvajothi Ramalingam, Senior lecturer, Faculty of Languages and Linguistics, University of Malaya
Dr Yeoh Yin Yin, Senior Lecturer, Department of Chinese Studies, Faculty of Arts and Social Sciences, University of Malaya
Dr Ashairi Suliman, Assistant Director, Assessment & Examination Sector, Sarawak State Education Department, Malaysia
Mdm Jenita Engi, Co-founder, Pusat Didikan Komuniti (PDK) / PDK Cenwaey Penaney
Dr Jeannet Stephen, Borneo Institute for Indigenous Studies (BorIIS), Universiti Malaysia Sabah
Mr Josak Siam, Former Project Coordinator of Dayak Bidayuh National Association (DBNA), Sarawak, Malaysia
Mr Komeok Joe, CEO of Keruan Persatuan Penan, Sarawak
Dr Colin Nicolas, Coordinator of the Center for Orang Asli Concerns (COAC)
Dr Kua Kia Soong, Mother Tongue Education Activist
Mdm Rita Lasimbang, KLF Chief Executive Officer
International Conference on Mother-Tongue Based Multilingual Education
(WEB based)
Date: 23 to 25 November 2021
Venue: Zoom (Online platform)
Language: English & Malay (simultaneous interpretation)
Time

(UTC +8:00)

Programme

Day 1 (23 November 2021)

8:45am-

9:00am

Welcoming Speech

Tan Yew Sing

Chairperson, Organising Committee

Opening Speech

YB Senator Dato' Dr Mah Hang Soon, Deputy Minister of Education Malaysia

9:00am-

10:30am

Keynote I: Mother Tongue-Based Multilingual Education: Contexts, Theories and Practices (Abstract; PPT; Video )

Speaker: Dr Kathleen Heugh

Associate Professor in Applied Linguistic, UniSA Education Futures, Centre for Research in Educational and Social Inclusion, University of South Australia

Moderator: Megat Mohamed Amin Megat Mohamed Nor, Secretary, Inisiatif Pengislahan Pendidikan Nasional (IPPN)

10:30am-

11:00am

Break time

11:00am-

12:30pm

Panel Session I: Past and Emerging Language in Education Issues Related to MTE in Malaysia (Video)

Chairperson: Dr Tan Raan Hann

Research Fellow, The Institute of Malaysian and International Studies (IKMAS), Universiti Kebangsaan Malaysia

Panelists:

1. Dr Selvajothi Ramalingam, National Integration in Malaysia: Is the Vernacular Schools Promoting or Preventing? (Abstract)

Senior lecturer, Faculty of Languages and Linguistics, University of Malaya

2. Dr Yeoh Yin Yin, Non-Chinese Students in Chinese Primary Schools (Abstract)

Senior Lecturer, Department of Chinese Studies, Faculty of Arts and Social Sciences, University of Malaya

3. Dr Ashairi Suliman, DLP (Dual-Language Programme) and Teaching of Mathematics and Science in English (PPSMI)(Abtract; PPT )

Assistant Director, Assessment & Examination Sector, Sarawak State Education Department, Malaysia

Day 2 (24 November 2021)

9:00am-

10:30am

Keynote II: Language Policy and Social Cohesion and Language Problems in Multiethnic Countries: The Case of Southeast Asia (Abstract; Video)

Speaker: Dr Joseph Lo Bianco

Emeritus Professor of Language and Literacy Education, Melbourne Graduate School of Education, University of Melbourne

Moderator: Dr Joseph Lee Yu Kuang, Vice Chancellor, Inti International University

10:30am-

11:00am

Break Time

11:00am-

1:00pm

Panel Session II: MTB-MLE Experiences in SEA Countries (Video)

Chairperson: Dr Kimmo Kosonen

Panelists:

1. Dr Kimmo Kosonen, Non-dominant languages and multilingual education in Southeast Asia: An overview(Abstract; PPT)

Specialist, Payap University, Chiang Mai, Thailand

2. Dr Maria Mercedes "Ched" E. Arzadon, The Perils and Thrills of Sowing Broadly: The Philippine MTB-MLE Experience (Abstract; PPT)

Assistant Professor, College of Education, University of the Philippines-Diliman, Philippines

3. Dr Kirk Person, Introducing the "Bangkok Statement on Language and Inclusion": Implications for Multilingual Education in Asia Pacific (Abstract; PPT)

Director, External Affairs, SIL International (Mainland Southeast Asia)

4. Dr Jessica Ball, Multilingual Education in Cambodia (Abstract; PPT)

Professor, University of Victoria, Canada

Day 3 (25 November 2021)

9:00am-

10:30am

Keynote III: Challenges Facing Mother Tongue Based Multilingual Education in Malaysia (Abstract; PPT; Video)

Speaker: Dr Maya Khemlani David

Honorary Professor, Asia - Europe Institute, University of Malaya

Moderator: K.Arumugam, President, Tamil Forum Malaysia

10:30am-

11:00am

Break Time

11:00am-

1:00pm

Panel Session III: Initiatives and Challenges of MTB-MLE among Indigenous Peoples in Malaysia (Video)

Chairperson: Dr Colin Nicolas (Overview)

Coordinator of the Center for Orang Asli Concerns (COAC)

Panelists:

1. Mdm Jenita Engi - Co-founder of Pusat Didikan Komuniti Cenwaey Penaney, Pahang, Malaysia (PPT)

2. Dr Jeannet Stephen - MTB-MLE and the teaching and learning of indigenous languages: perspectives from teachers on their motivations, struggles and their aspirations (Abstract; PPT; Video)

Senior Lecturer of Borneo Institute for Indigenous Studies (BorIIS), Universiti Malaysia Sabah

3. Mr Josak Siam - Initiatives and Challenges of MTB-MLE among Indigenous Peoples in Malaysia: The Bidayuh Experience(Abstract; PPT)

Former Project Coordinator of Dayak Bidayuh National Association (DBNA), Sarawak, Malaysia

4. Mr Komeok Joe - Preserving Penan Identity and Culture through Keruan Pre School (Abstract; PPT)

CEO of Keruan Persatuan Penan, Sarawak, Malaysia

1:00pm-

2:00pm

Lunch Time

2:00pm-

3:30pm

Plenary Discussions and Q & A (Video)

MTB-MLE in Malaysia: The Way Forward

Chairperson: Dr Helen Ting Mu Hung

Associate Professor, The Institute of Malaysian and International Studies (IKMAS), Universiti Kebangsaan Malaysia

1. Dr Kua Kia Soong, Mother Tongue Education Activist (PPT)

2. Mdm Rita Lasimbang, KLF Chief Executive Officer (Video)

3. Mr Michael Mering Jok, Sarawak Society for the Protection of Indigenous Rights

4. Mr Joemin Maratin, MTB-MLE Director, SIL Malaysia

3:30pm-3:45pm

Closing Speech

Dr Helen Ting Mu Hung

Program leader, Organising Committee
International Conference on Mother Tongue Based Multilingual Education 2021